Moderators: Seafarer228G, Potterbuilt
My 1981 Bimini 220 . We have had her since day 1
Attachments

IMG_3954.jpg (497.01 KiB) Viewed 3317 times

IMG_3783.jpg (661.52 KiB) Viewed 3317 times
Posts: 1
Joined: Jun Mon 08, 2015 6:04 pm
---
A Day in the Bay
Posts: 66
Joined: Apr Thu 29, 2010 5:31 pm
Location: Lake Hopatcong, NJ
---
Here's a pic of my 2004 257Advance with T/F150's. The "Chiefs Call"
Attachments

20150711_190536.jpg (99.65 KiB) Viewed 3189 times
Posts: 2
Images: 1
Joined: Sep Thu 24, 2015 6:51 pm
Location: Delaware
---
One thing is for sure it dosen't matter how old a grady is they are all beautiful boats and look like they are one with the sea. Thank you Grady
...
I just bought my first Grady today which i have been looking for for two years. People are reluctant to let go of their Grady's especially out on the west coast of the USA and Pacific Northwest.. I will be posting a pix of mine in two weeks! Yahoo
Posts: 22
Images: 0
Joined: Feb Thu 27, 2014 12:43 am
Location: Coos Bay Oregon
---
That's a great looking 209!. How was it this year in SD, what type of boating/fishing do you do out there ? I just purchased a brand new Fisherman-209 with the Yamaha 200. It's great to see the same or very similar Grady models from previous years and how well they age. Nice boat!
Posts: 2
Images: 1
Joined: Feb Sat 20, 2016 3:14 pm
---
I am new to the forum and wanted to say hello from Pensacola, FL . Here is a picture of my 2005 GW360 that is currently sitting on the hill for a repower.
Reality Bites II
Pensacola, FL
2005 GW360 Express
300 Suzuki's
Posts: 6
Joined: Mar Fri 18, 2016 8:45 pm
Location: Pensacola, FL
---
The other woman getting ready for battle [album][/album]
Attachments

image.jpeg (1017.92 KiB) Viewed 2791 times
86 24 offshore 2003 250 merc saltwater efi The Other Woman
Posts: 19
Joined: Apr Thu 13, 2006 1:16 am
Location: wharton,New Jersey
---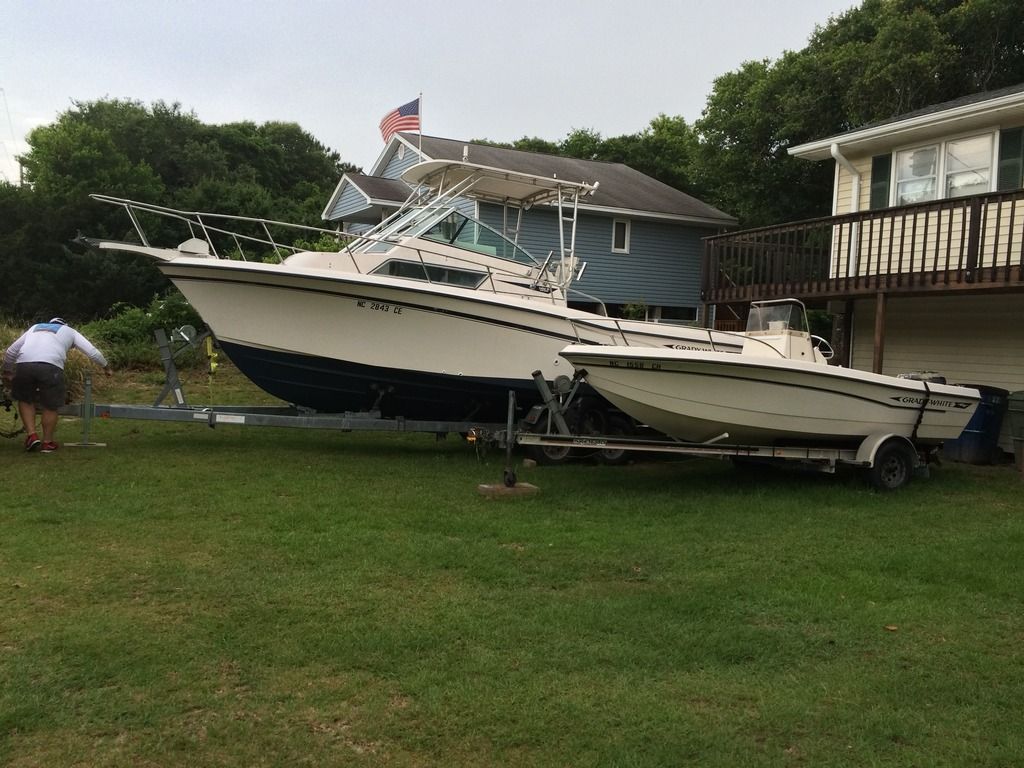 252 Sailfish
175 Spirit *Sold*
Posts: 3
Joined: Sep Tue 22, 2015 1:04 am
---
2017 Grady White 330 Express, Yamaha F350s
Posts: 95
Joined: Dec Tue 06, 2005 2:10 am
Location: Southwest Florida
---
Comfortably Numb wrote:
That is a beautiful boat! I was drooling over one at the boat show the other day, this is defiantly my "someday" boat!
'86 Offshore '97 225 OX66 (Sold)
'91 228G Seafarer 2000 250hp OX66 (Sold)
'99 272 Sailfish twin 225 OX66's
GreatGrady Captain
Posts: 169
Joined: Oct Mon 01, 2012 1:14 am
Location: Massachusetts
---
Here's my new to me marlin. Still taking care of some points of neglect but so far it's been great.[album][/album]
Attachments

IMG_2167.JPG (106.18 KiB) Viewed 1129 times
Posts: 5
Joined: Jun Wed 14, 2017 1:19 pm
---
2017 Freedom 235
Yamaha F300
Posts: 2
Joined: Oct Mon 24, 2016 8:14 pm
---
---
Who is online
Users browsing this forum: No registered users and 1 guest